==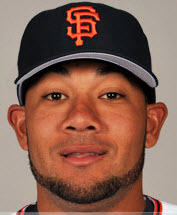 Melky Cabrera== Melky Cabrera was acquired from the Kansas City Royals in November 2011 in a trade which resulted in the loss of Jonathan Sanchez and Ryan Verdugo. Melky will play in Center Field.
Full Name: Melky Cabrera
Nickname: Melk Man or Leche
Born: August 11, 1984 in Bajos De Haina, Dominican Republic
Height: 6' 0
Weight: 200
Bats: Switch
Throws: Left
College: N/A
MLB Debut: July 7, 2005
Biography
Edit
Participated in the 2011 Royals FanFest...Took part in the Yankees' hurricane relief donation of $35,000 in cash and food to the Dominican Republic in October of 2007...Honored with a Munson Award for his excellence and philanthropic work in the community at the 28th Annual Thurman Munson Dinner on February 5, 2008.
2010 Highlights
Edit
Spent his first season in the National League with the Braves...Got off to a slow start, batting just .195 (15-for-77) in April before hitting a combined .288 (68-for-236) from May through July...Despite just 458 at bats, his second-lowest since becoming a regular in 2006, he collected 27 doubles, 1 shy of his career high set in 2009.