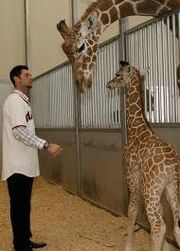 Full Name: Brandon "Baby Giraffe" Kyle Belt
Born: April 20, 1988 in Nacogdoches, TX
Height: 6' 5
Weight: 220
Bats: Left
Throws: Left
College: Texas
MLB Debut: March 31, 2011
Biography
Edit
Married (Haylee)...Attended University of Texas...led Longhorns to College World Series in 2009 after pacing team in batting avg. (.319)...earned All-Big 12 Honorable Mention in 2008...overall, batted .321 (152-for-473) with 14 HRs and 108 RBI in 124 games in his 2 seasons at Texas...Before going to Texas, played one year for San Jacinto College in Houston and was pitcher and designated hitter...batted .441 with 10 HRs to receive All-Conference designated hitter honors and 2007 Juco World Series Big Stick Award for 3rd ranked Gators as freshman...Was selected by Atlanta Braves in 11th round of 2007 First-Year Player Draft, but did not sign...Graduated from Hudson High School in Lufkin, Texas...as senior, garnered district MVP, All-State and All-America honors...Was selected by Boston Red Sox in 11th round of 2006 First-Year Player Draft, but did not sign.
2010 Highlights
Edit
Made quite an impact in his 1st professional season, batting .352 (173-for-492) with 43 2Bs, 23 HRs and 112 RBI in 136 games between 3 different levels in SF's system...Named by Baseball America as Minor League All-Star...Led minor leagues with 1.075 OPS, finished 2nd in batting avg. (.352) and on-base pct. (.455) while ranking 4th in RBI (112) and 7th in slugging pct. (.620)...Spent season rocketing his way through Giants system...began campaign at Class A Advanced San Jose and batted .383 (103-for-269) with 62 runs, 10 HRs, 62 RBI and 18 stolen bases in 77 games...Hit safely in season-high 18-straight games from April 11-30, then collected hits in 16-consecutive games from June 9-28...Led California League in on-base pct. with .492 mark, despite having just 333 plate appearances...MLBAM, official statistician for minor league baseball, recognized Belt based on Rule 10.22(a)...Named CAL mid-season All-Star and garnered CAL Player of Week honors for week ending June 21...Moved on to double-A Richmond, where he played in 46 games and batted .337 (59-for-175) with 9 HRs and 40 RBI...Appeared in 13 games at triple-A Fresno, going 11-for-48 (.229) with 4 HRs, 10 RBI...Had MVP-caliber Fall League campaign, batting .372 (32-for-86) in 22 games to help lead Scottsdale Scorpions to AFL Championship title...played in AFL Rising Stars Game (best of the best).
Ad blocker interference detected!
Wikia is a free-to-use site that makes money from advertising. We have a modified experience for viewers using ad blockers

Wikia is not accessible if you've made further modifications. Remove the custom ad blocker rule(s) and the page will load as expected.